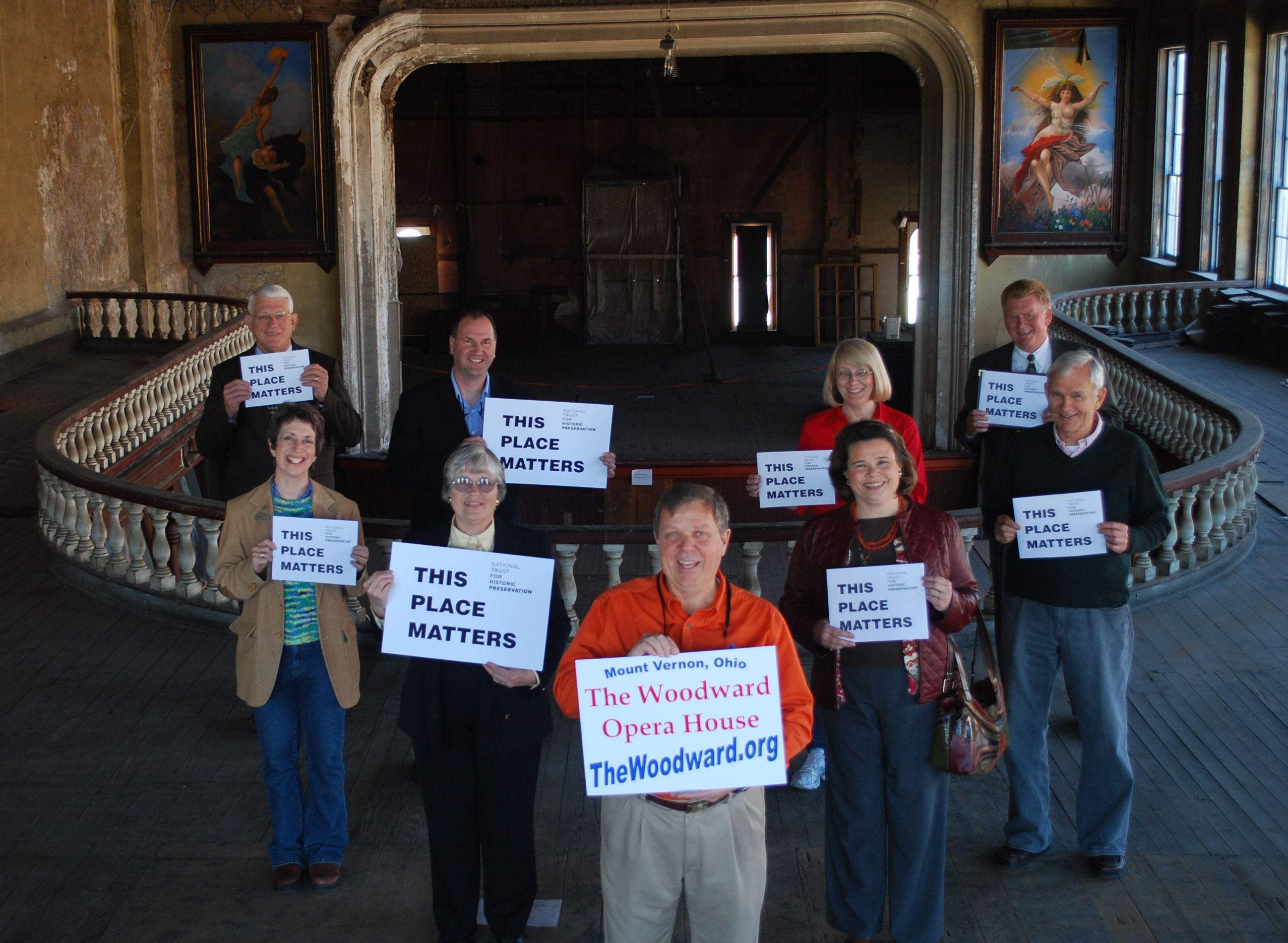 The Woodward Opera House once hosted the finest entertainers of its day, including stage legends Minnie Maddern Fiske and Frank Currier, comic monologist Bob Burdette, and minstrel man Dan Emmett. Then-Senator William McKinley spoke on its stage two years prior to his 1896 presidential nomination. Theatrical and vaudeville companies, touring lecturers, and others appeared there an average of three evenings a week from the 1850s into the early 20th century. The auditorium also served as a military drill hall, party center, roller-skating parlor, basketball court, and indoor horseshoe pitch at various times throughout its history. Later owners closed off the upper floors as the Woodward became less popular than the ground level motion picture houses that popped up throughout Knox County. They decided it was better to maintain spaces that provided a steady income, such as offices and retail venues. While still structurally sound, by 1998 the buildings were in disrepair caused by water leakage, a lack of heat in winter, and the simple fact of having stood unused for decades.
Once the Woodward project is complete, the theater will be restored to its former elegance, and will be completely handicap accessible. It is the Woodward Development Corporations vision that it will become an evening destination for visitors from across Knox County and well beyond. The Woodward's presence will benefit not only the city's arts and cultural agencies, but also the local restaurants, lounges, hotels, and retail businesses. Many theater patrons will likely make a night or weekend out of their excursion, and will shop and eat before and/or after performances.
The Woodward Opera House's 500-seat auditorium will permit the booking of professional touring companies and entertainers of national reputation and will make Mount Vernon a true destination for fans of the performing arts. Two smaller meeting/performance rooms will provide additional space for rehearsals, smaller performances, and conferences.
The basement, ground level, and non-theater spaces on the second floor will be utilized for additional downtown to retail, offices, and dining. The Woodward Development Corporation projects that the rental income from these leasable spaces will fund the majority of the complex's maintenance in perpetuity. In addition, it will provide support for the local cultural and performing arts groups who will provide much of the programming.
Your generous gift toward this goal will ensure that further generations experience culture, entertainment, and learning opportunities in what will again be recognized as a Knox County and national landmark.