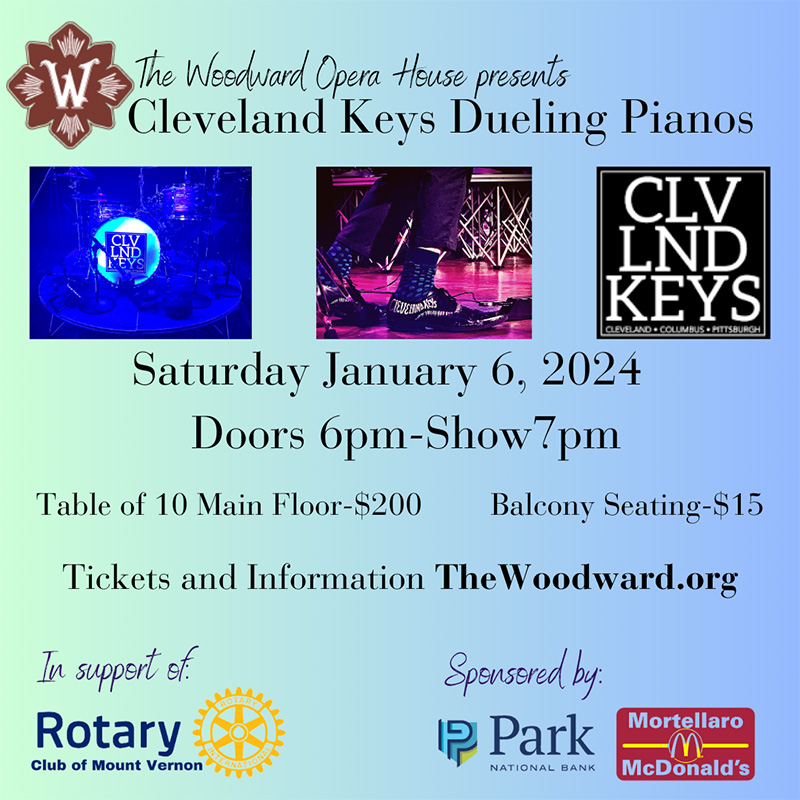 The Woodward Opera House proudly presents CLEVELAND KEYS DUELING PIANOS on Saturday January 6, 2024. Partnering to help raise funds for The Rotary Club of Mount Vernon, this one-night show is sure to sell out quickly. Local businessmen Bob Boss, and Joe Mortellaro have joined with The Woodward and The Rotary Club of Mount Vernon in sponsoring this event. Park National Bank, and Mortellaro McDonald's are great community advocates and always look for a worthy cause to support. The Rotary Club of Mount Vernon, a service organization, will be raising funds to assist their many projects in the Mount Vernon/Knox County areas.

Cleveland Keys provides audiences with an all-request Dueling Pianos show guaranteed to make your night memorable.
From Nashville, TN, Greg Coffey has been performing professionally all across the U.S. touring with artists such as Jaime Lynn Spears, Madonna Nash, and Cody Purvis. While in Nashville, Greg could be found on Broadway most nights playing with Nashville's top musicians and artists.
Learning and collaborating with the best musicians in Nashville, Greg created a unique style of Dueling Pianos that brings high-level musicianship and impromptu entertainment together to deliver an outstanding show. After visiting Cleveland, Greg fell in love with the city and decided to start Cleveland Keys Dueling Pianos.
Returning to the stage in the beautiful historic Woodward Opera House, Cleveland Keys will once again blow you away with their professionalism and talent.
"Cleveland Keys has become a house favorite, and we now think of them as part of The Woodward family." Says manager, Dena Hess. Hess has worked with the traveling band on each of their visits to The Woodward Opera House and says that the audience always asks "When will they be back"!!
Join us on Saturday January 6th at 7:00pm for this amazing night of singing, dancing, and fun!