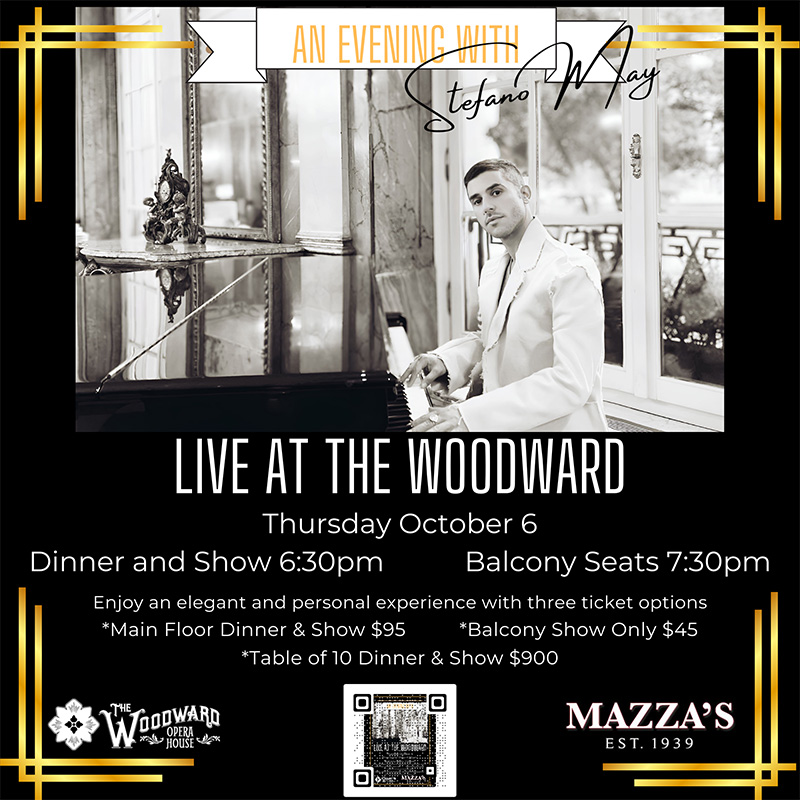 Your soul will be awakened with the amazing talent of Stefano when you join us on Thursday October 6th for AN EVENING WITH STEFANO. This intimate concert will include the option for main floor seating with dinner catered by Mazza's Restaurant. Balcony seating is also available. You will not want to miss this very special event in America's Oldest Authentic Opera House as The Woodward presents An Evening With Stefano
Stefano Maiuolo is an Italian singer, songwriter, and piano virtuoso who fuses soul, pop, and classical sounds for an enthralling musical journey that shares a consistent message of healing, hope, and love.
Born in Soveria Mannelli, Italy Stefano began classical piano training at age seven and quickly gained notoriety by performing on popular Italian tv shows and collaborating with famed songwriters, director Franco Zeffirelli and famed producer Chico Bennett (Madonna, Lady Gaga, The Killers, Prince) to produce his single "Prayer".
Stefano has been compared to Andrea Bocelli, Michale Buble and Sam Smith. His single "We are the Power" was featured on top playlists such as "Best Spotify Playlist 2022".
Main Floor Dinner and Show $95.00
Table of 10 Dinner and Show $900
Balcony Show Only $45
Times:
6:30 Dinner with doors opening at 6:00 for ticket holders
7:30 doors open for balcony ticket holders
Show will begin at 8:00