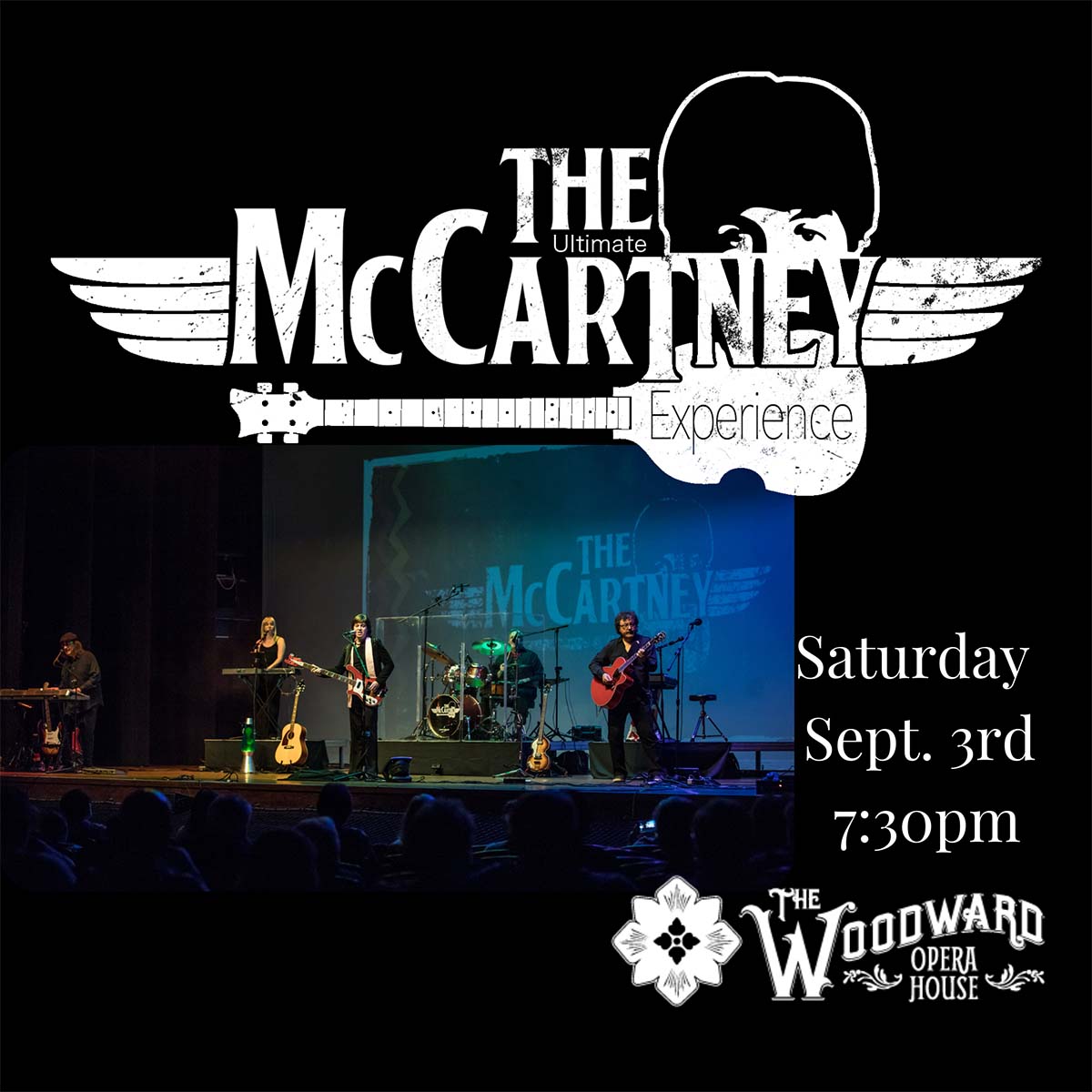 THE McCARTNEY EXPERIENCE–AMERICA'S #1 TRIBUTE TO PAUL McCARTNEY, WINGS AND THE BEATLES TO APPEAR AT THE HISTORIC WOODWARD OPERA HOUSE.
The McCartney Experience, America's #1 live concert tribute to Paul McCartney, Wings and The Beatles, takes center stage at The Woodward, for one night only, on Saturday September 3, 2022 at 7:30 PM.
The McCartney Experience covers more than three decades of the most popular Beatles hits through the monster hits of Wings and more. Each song replicates the authentic, iconic sound of Paul McCartney's music. This is a fun, high-energy show from the opening song through the closing encore. It is the family-friendly show for all ages. A wonderful opportunity to introduce kids or grandkids to Sir Paul's unforgettable music. Leading The McCartney Experience is Tony Burlingame. He has been paying tribute to Paul McCartney for years and bears an uncanny resemblance to Sir Paul. His voice, mannerisms and left handed bass playing along with the very talented McCartney Experience band delivers the ultimate McCartney experience. "We work very hard at replicating the sights and sounds of Paul McCartney, we even have our own Linda," said Burlingame. "People constantly tell us how our show connected them with their own great memories." Tony has performed throughout the United States including performances with the premiere Beatles tribute band "The Fab Four". Songs include: Eight Days A Week, Band on the Run, My Love, Lady Madonna, Hey Jude, Yesterday, Silly Love Songs, Coming Up, Another Day, Live and Let Die, Penny Lane, When I'm 64, Magical Mystery Tour, Say, Say, Say, Golden Slumbers Medley, Helen Wheels, Jet, Blackbird, Get Back and more.